Abrasive materials
---
It's getting more and more common to see fiber reinforced polymer as 3D printer material. The most common filler is carbon fiber. Fiberglass is coming second with increasing use in 3D printing. It's been common in injection molding long before 3D printing.
The goal of these added fibers is to enhance the mechanical properties. In general, you'll see increased tensile strength and increased bending modulus. These mixtures of polymer and fibers are sometimes called "Filled Plastics" and "Composites".
Composites are made from two different materials or more. For 3D printing, the matrix is always a thermoplastic. The reinforcement can be one of the following:
| Reinforcement | Type | Goal |
| --- | --- | --- |
| Carbon Fiber | Ceramic | Strength and rigidity |
| Fiberglass | Ceramic | Strength and rigidity |
| Kevlar Fiber | Polymer | Strength and rigidity |
| Metal powder | Metal | Aesthetic |
As shown here, the tensile strength, flexural strength, and flexural modulus are increased.
| Material | Tensile strength (MPa) | Flexural strength (MPa) | Flexural modulus (GPa) |
| --- | --- | --- | --- |
| Nylon 6/6 | 81 | 103 | 2.83 |
| Nylon 6/6 + 40% Glass fiber | 213 (262%) | 289 (280%) | 11 (390%) |
| Nylon 6/6 + 40% Carbon fiber | 276 (339%) | 414 (400%) | 23 (829%) |
Take these values with a grain of salt as 3D printing material use very short fibers. Also, fiber content is closer to 20% in most cases.
Wear mechanism
---
As you push your filament through your hotend, pressure is building. For instance, our powerful extruder generates pressure of 25 MPa. As the plastic exits out of the nozzle, many hard fibers are sliding and rolling against the inner wall. This causes Abrasive wear, also referred as "cutting wear", "slurry erosion" and "scratching wear". Outside of 3D printing, debris, dirt or sand are often the cause in a moving mechanism.
In short, abrasive wear happens when a hard material slides on another material. The fibers are short and looks like needles. It's easy to imagine them scratching as they pass through the nozzle. In this application, hardness is one of the key factor in wear resistance. Abrasion can occur even if the abrasive is softer than the nozzle material.
Measuring wear
---
Wear can be measured using other techniques than extruding large amounts of plastic. In fact, it is true that only a few hundreds grams can make a significant difference on a brass nozzle hole size. On the other hand, the extrusion test could take many kilograms before observing a difference with high-performance materials.
Measuring techniques and tools
There are many standards for measuring wear. They all work on different principles and will result in different conclusion. It is very important to understand our application and base our measuring method on a valid equivalent measuring standard. Otherwise, the results would differ from design to application.
Comparable and valid measuring technique
The key in our application is the presence of hard and sliding particles, that can either be in the form of a slurry or simply sand. The test ASTM G65 and ASTM G105 is an excellent example; To explain, a rubber wheel is constantly fed with sand and scratch the specimen surface. To clarify, you can compare the rubber wheel as the polymer in the fiber reinforced filament, and the sand particles as the fibers.
Other measuring techniques
There are many other techniques for measuring wear:
Block-on-ring — ASTM G77
Crossed cylinders — ASTM G83
Pin-on-disk — ASTM G99
Sphere-on-disk — DIN 50 324
The Taber Abraser — ASTM 1044
These tests are less interesting for our application as the material friction coefficient has a great impact of the performance and wear. As a matter of fact, Brass, PTFE impregnated coating and other low friction materials will greatly benefit from these tests. Yet, these materials will perform very poorly based on abrasive sand methods.
Reducing wear
---
Wear can be a major problem for precision with 3D printers. Indeed, printing a large part using fiber reinforced filament with a standard brass nozzle will generate a lot of wear. Both the nozzle hole size and the flat position will change, slowly degrading the print quality.
Many solutions can help with abrasion. Below are some examples with pro and cons.
1. Increase hardness
Increasing hardness can be done with almost any alloys. An alloy is a combination of metals. For example, brass is most frequently an alloy of copper and zinc, tin, or aluminum. Steel in an alloy of iron and carbon.
However, increasing hardness is very different when working with steel compared to other alloys. Steel get harder by quenching, which consists of a rapid cooling from a high temperature.
Quenching with other alloys such as aluminum or brass would make them actually softer. These alloys require what we call "precipitation hardening" through aging. Aging is done by keeping the part at a high temperature for a long time. For example, the classification T6 you often see with 6061-T6 aluminum consists of heating the material at 180°C for 9-10 hours.
Sadly, keeping this high temperature for a longer time, or simply reaching a higher temperature, will return the material to its base temper, which has very poor hardness. This is the main reason why these materials can't be used from their heat treated form.
2. Using hard coatings
Hard coatings are widely used as they provide a thin layer of hard material, protecting the base material from wear.
Application methods
Application methods can be: dipping, spraying, electroplating, vapor deposition.
Sadly, not all methods are able to plate the inside of a 0.40mm hole. For example, electroplating uses an electrical current to coat the base material. The plating is highly dependent from the shape. A special electrode would be required for properly plating the interior, and the plating thickness wouldn't be even.
Electroless nickel plating
Nickel phosphorus plating is the omnipresent solution for 3D printer nozzles. It's also called electroless nickel plating, not to confuse with nickel plating. This coating process uses an autocatalytic chemical reaction to plate the base material. This process is slow and the thickness is very low, but the performance is great.
Electroless nickel can be heat treated for even higher hardness. The plating will turn yellow/gold in color. Also, it can be alloyed with many interesting additives:
Boron
Diamond
Silicon Carbide
PTFE
It's very popular and can be found under many types, names, and brands.
Weakness
This plating weakness is the thickness. Despite being very hard, it is wearing out with the extrusion. Typical thickness are between 0.005mm and 0.012mm. Once the plating reveals the base material, the abrasion increases drastically.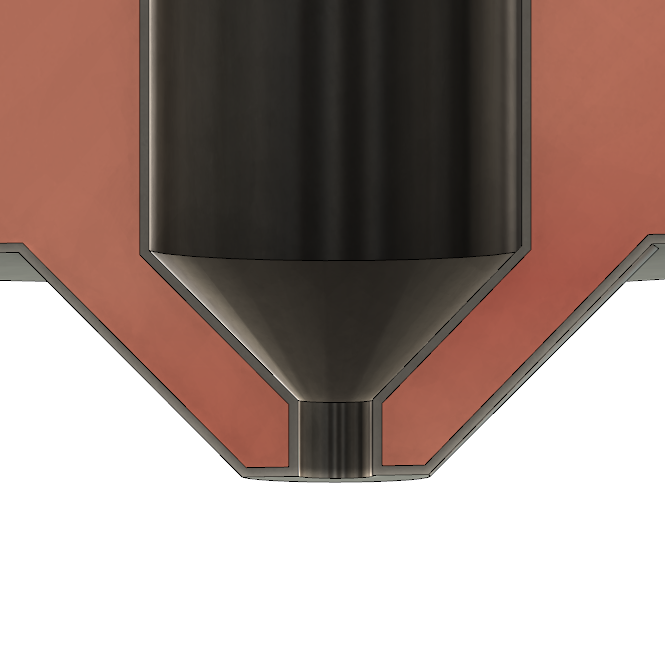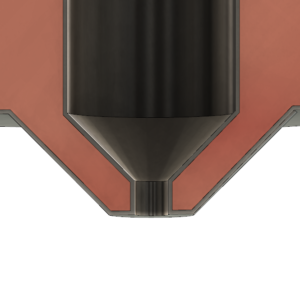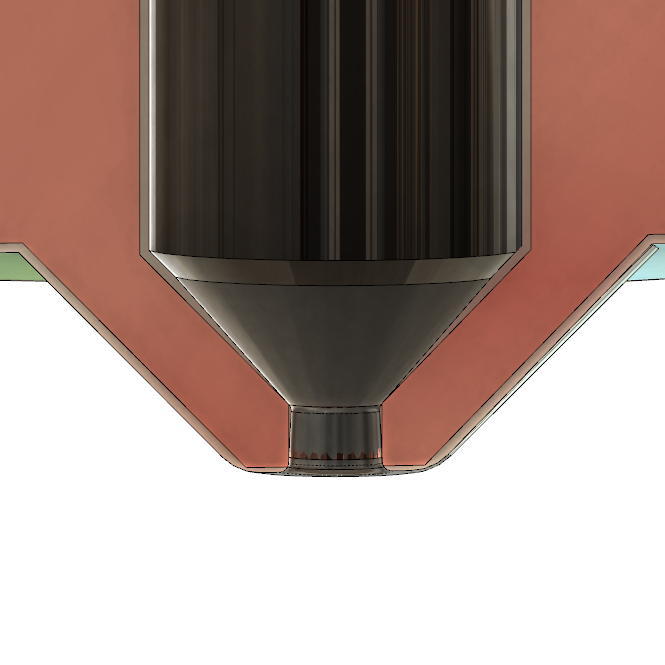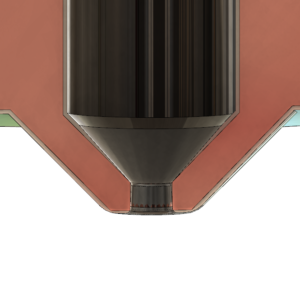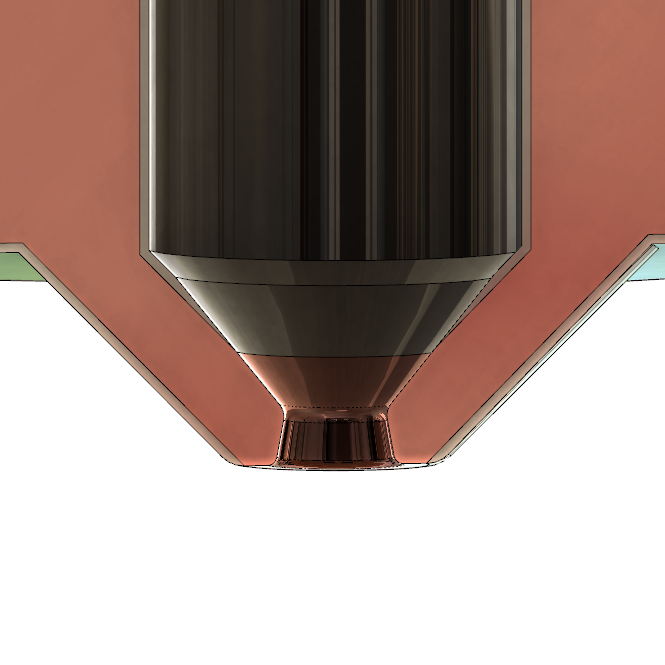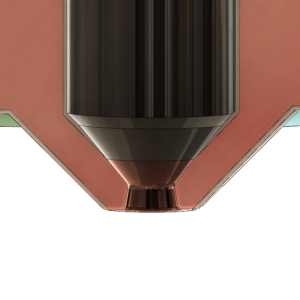 Another weakness is the base material hardness. Softer metals will generally be used as the base material, such as brass and copper. As hitting a hard bed with the nozzle can be a frequent mistake by the user, there is a high risk that the nozzle compress and crack the coating. Applying a hard coating over a soft base material is the equivalent of laying a glass window over a pillow. This article1  shows how ineffective a hard coating can be when a soft substrate is used.
Moreover, it was shown here2  that even a different tool steel alloy could change the hard coating performance.
Metallurgical surface modification
It's also possible to alter a thin layer by combining chemical and heat treatment. The chemical from a controlled environment diffuse to the material surface, thus changing its composition and properties. It's commonly used with steel to increase the surface hardness while keeping the core soft. Gears are made using this technique; the surface is hard to prevent wear, the core is soft to prevent fissures and tooth cracking.
The thickness can vary from a few micrometers to many millimeters, depending on the chemicals, technique and temperature used. So depending on the process, this category could also be considered as a complete "hard material" as seen above.
Below are commons thermochemical processes used with steel:
Carburizing— Carbon
Nitriding — Nitrogen
Carbonitriding — Carbon and nitrogen
Boronizing — Boron
Surface modification is an excellent process for increasing wear resistance for 3D printer nozzles as it provides a great performance increase at low added cost. And the process can be done in bulk and can harden the small hole when used in a gas or liquid environment.
3. Using hard materials
Using harder materials is another effective solution. Rather than having only a thin layer of hard material, the whole body is made from a wear resistant material.
In fact, this solution has great reliability as the wear rate is constant throughout time.
There are many types of hard materials that can be used, below are a few examples:
Hardened steels
Ceramics
Cemented carbides
Crystals
Unfortunately, the drawback of using hard material is that they can be very costly. Some are so costly that it is more cost-efficient to manufacture only the tip from these material and the housing from a cheaper one. Then, the price difference between the hard material and the housing material is absorbing the assembly fees.
Performance comparison
---
To conclude this article, this table shows summarize the materials' performance according to their hardness and wear resistance. As you can see, some materials are missing, as their documentation is not present for this wear test.
| Material | Type | Hardness (HV) | Volume loss ASTM 65A (mm3) |
| --- | --- | --- | --- |
| 1020 | Steel | 115 | 370 |
| 316 | Stainless Steel | 229 | 220 |
| H13 Heat treated | Tool steel | 585 | 127 |
| 440A Heat treated | Stainless Steel | 560 | 83 |
| Electroless Nickel 10P Heat treated | Coating | 760 | 80 |
| A2 Heat treated | Tool steel | 700 | 63 |
| D2 Heat treated | Tool steel | 700 | 39 |
| Hard Chrome 10µ | Coating | 1960 | 19 |
| Tungsten Carbide | Cemented carbide | 1580 | 2.5 |
As mentioned before, hardness generally increase with abrasion resistance. However, there are other parameters important to wear, so it's not possible to find a link between the two. As shown on the graph below, hardness around 750 HV can range from 80 mm3 loss down to 12mm3.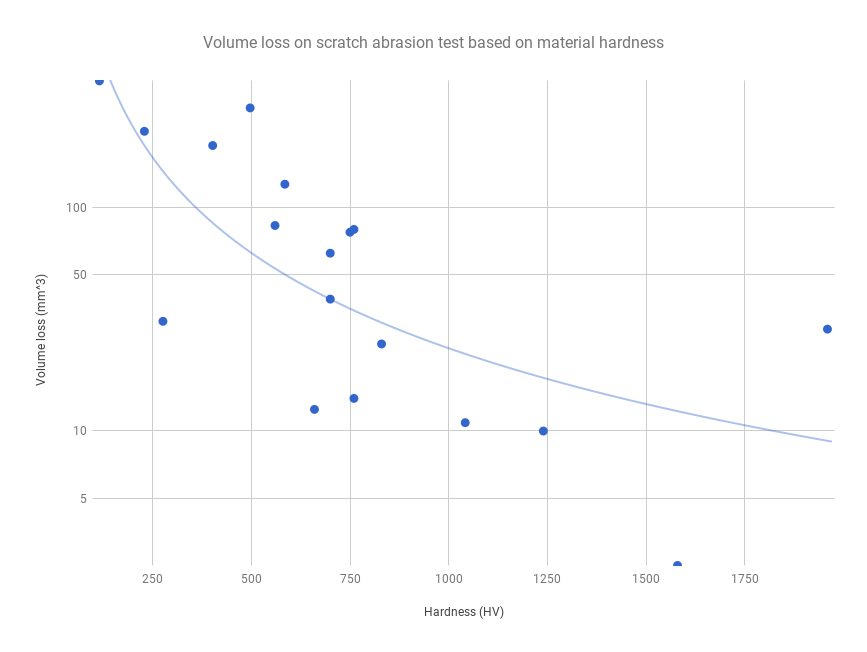 Conclusion
---
As we've seen, polymer additives such as carbon and fiber can increase the material strength. However, they also cause abrasion by the mean of scratching. Problem can occur while printing if a standard nozzle is used.
In brief, increasing hardness, using coating, and using hard material can help reduce abrasion. It's very important to choose the right testing methodology based on the type of wear experienced by the part.
I hope you enjoyed this article about abrasion. I'll also be happy to complete it if I have forgotten or mistaken any information. Feel free to comment it and share your thoughts.
---
Effect of soft substrate on the indentation damage in silicon carbide deposited on graphite, Lee, K.S., Park, J.Y., Kim, WJ. et al. Journal of Materials Science (2000) 35: 2769. https://doi.org/10.1023/A:1004778614890
Effect of substrate on wear performance of multilayer hard coating, D. Pilone & U. Bernabai (2008) , Surface Engineering, 24:3, 193-197, DOI: 10.1179/174329408X282569